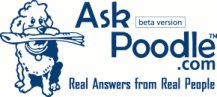 Earlier this week, AskPoodle sent out a press release officially launching the web site.  Just before this release, I caught up with Luis Pereira, the Founder & CEO of AskPoodle.com and interviewed him about the new site and service available to small business owners.
Here is part 1 of that interview:
Q. What is AskPoodle.com?
A. AskPoodle.com is an on-line social marketplace that matches local consumer needs with local businesses.  We enable online users to submit local search requests, and enable local merchants to respond to those local search requests.  We have developed an innovative platform that revolutionizes the way people look for local businesses on the internet or in the phone book.
Q. How did you come up with that name/logo?
A. I went through a process of thinking of words that projected the image I wanted for the website.  Most of the words I came up always seemed to project some of the feelings one has for their pet.  Considering my first dog was a poodle, 'AskPoodle.com' seemed like a good choice.
Q. Is Ask Poodle.com available in all cities?
A. Yes, AskPoodle.com is currently available in all US cities.
Q. How can a small business use AskPoodle to promote their business?
A. All a small business has to do to start promoting their business on AskPoodle.com is simply claim and register their free business listing and profile. Once registered they can then select categories that match their line of business and start responding to matching search requests.
Q. You say on the website you are in beta, what is the vision of future goals of the website?
We are currently in the process of building a self-service advertising system that will provide a level playing field for all small business advertisers.
Q. "A self-service advertising system" -can you explain this some more?
A. Small business owners will be able to log on and mange their online advertising campaigns.  They will be able to choose different categories and keywords that match their line of business as well as defining their service area coverage.  They will also be able to setup auto-reply messages for their matching sales leads.