Today I take a few minutes from my normal posting to mention BloggerUnite. Today, December 17th 2007 is about Acts of Kindness.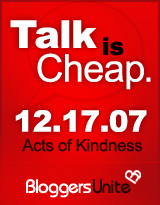 What is this about? "The Acts of Kindness theme aims at putting a human face on the bloggers responsible for so much good in the world. The goal is to expose their kindness and generosity as well as serve as an example to non-bloggers that volunteering for a charity, donating to a cause, or simply doing something kind for another person has a ripple effect around the world…"
At this time of the year, I think it is a good time for everyone to spend a few minutes to take stock of things and remember those less fortunate. Normally, I do not speak of my volunteer/charity efforts but BloggerUnite is trying to be positive force so I decided to participate.
This past weekend, my Cub Scout Pack (boys in 1st – 5th grade) volunteered at the local food bank to help do whatever was needed. We worked for a 2+ hours and help box over 2200 cans of food and packed over 600 bags of groceries for needy children. I am real proud of these boys and their fathers for the time they took out from their Saturday to help others.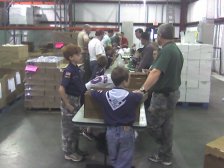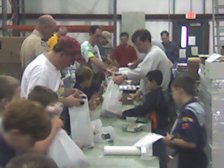 In the end, it is all about lending a hand…