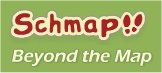 Today I finish my interview with Paul Hallett, CEO of Schmap.com Hopefully this interview will give you a little insight of what is happening on mobile-social-local front. Twitter is just one of the many areas online where small business can interact and reach out to potential new clients.
Q. What is schmap.me?
A. Schmap.me is a simple way to share map links using a meaningful, memorable, custom url.  For locations that you share frequently this can be a much more effective way of communicating location than sending a cumbersome google map link. For example, you can see the schmap.me url for Donald McMillian, VP of marketing. It includes additional information related to the location, such as phone numbers, directions, and photos – schmap.me/donald.mcmillan
Coincidentally, venture capitalist Fred Wilson recently commented on exactly this issue on his blog – http://www.avc.com/a_vc/2010/06/linking-to-google-maps.html (we'll have to get him a schmap for Union Square Ventures)
Q. I see you have a limited number of preloaded cities on your publish or widget programs. Will those cities listed be expanded at any time?  What if someone like myself wants to publish or schmap about something not in one of those cities?
A. We do plan to expand those cities for which we offer browse-able guides, but do not have a release schedule at this time.  However, our services, including schmap.it, schmap.me & geotweeter, are designed for the sharing of information from any location.  And in fact we have seen schmaps created for places in all corners of the world, in cities as wide ranging as Singapore, Moscow, New York, Reykjavik, and many many more.
Q. So how can a small business benefit from using schmaps?
A. Many small businesses are already using Twitter for local marketing: bars tweeting happy hours, stores with discount sales, restaurants promoting lunch specials, realtors marketing property – these are examples of local businesses trying to drive foot traffic from Twitter for commercial gain. Schmaps give these same local businesses a much better way to do this – extending a 140 character tweet into a rich local marketing resource.
Q. Are they any costs involved in using your site/services?
A. The basic service is free, with an optional $9.95 /month PRO account for power users. The PRO account has some nice additional marketing resources, including tweet scheduling, direct message and @message marketing campaigns, and the ability to track campaign metrics. We're currently offering a limited number of free PRO accounts – details at www.schmap.it/PRO-account-for-FREE – if any of your readers would like to take advantage.
Q. Where do you see local mobile marketing going in the near future.
A. Right now, we're seeing an epic commercial migration taking place at the intersection of 'local' and 'social'. The same local restaurants, bars, shops etc. that took ten years to discover the Internet are now adapting to Twitter and Facebook with much greater speed, finding some great opportunities to engage local consumers with a blurred mix of content, service and local marketing. Local consumers are increasingly accessing social networks and local content from mobile devices: we see the future of local mobile marketing being driven by these two trends – local businesses going 'social' and local consumers going mobile.
Again, I want to thank Paul for his time and insights.