Twitter is becoming a very powerful tool for individuals and small business. Recently I have found myself spending more time on Twitter, trying to keep up with the new trends and ideas on local search marketing, as well as sports scores, trades, rumors, the latest Android phones and more etc.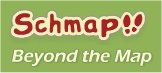 Mobile-local and social-local are growing areas small business needs to understand and areas where they can reach more potential clients. Schmaps is one of those companies doing some interesting and cool stuff online in the mobile-social-local market. I wanted to learn more, so I reached out and was able to interview CEO, Paul Hallett of Schmap. Below is part 1 of that interview. (The more I investigated their site and business, the more questions I have. I hope I covered everything you might have a question one.)
Q. Good day Paul, can you tell us a little about your company?
A. We started out in 2004 – at that time, there were just three of us, developing a platform to combine maps with local content (reviews and photos) in a compelling and dynamic way. This platform became the foundation for our popular Schmap guides – www.schmap.com – a series of desktop and mobile local guides for 200 worldwide cities.
Q. What is schmap currently doing?
A. Our current focus is at the intersection of local and social, making it easier for local businesses to reach local consumers, and help these same consumers discover vibrant, real-time local content. One aspect of our rollout here is the geoparsing of content shared on social networks. Taking Twitter for example, at any point in time, there's a wealth of vibrant local information being shared in tweets: people tweeting about great restaurant experiences, bands tweeting about gigs, bars tweeting about happy hours and so on.
The challenge is filtering and deciphering: if someone tweets " Cool bash tonight at Joe's", has that person just returned from a private party at a friend's house, or is there some kind of event coming up at Joe's Bar? What is the event, where is Joe's Bar, and who might this information be relevant to? The second aspect of our local/social rollout is http://schmap.it – a Twitter app for event marketing and local promotion.
Q. I recently signed up for that app,  can you tell us what this new tweeter app does?
A. Our schmap.it Twitter app basically allows the user to add rich local content to a tweet, in the form of a schmap – a map with text, photos, hash tags, and functionality that allows the recipient to retweet, add comments and RSVP to local events. The app is designed for commercial users – event promoters, marketing professionals and local businesses trying to drive folk from Twitter to real world locations: we saw a gap for this type of service left by the likes of Foursquare and Gowalla (services that focus on individuals sharing their current location).
Q.  After looking at your website, can you tell us a bit about your mobile apps….Schmap GeoTweeter?   Any Android or Blackberry versions coming out?
A. Geotweeter is an app that allows users to share their location via twitter as a customized map that can include photos, notes and custom icons. It was among the first iPhone apps to combine GPS coordinates with Twitter's service.  We are currently developing a new iPhone app that uses many of the concepts from Geotweeter, but will integrate with our offering of real time local information.  We are considering Android and Blackberry platforms for development following the release of the iPhone app, but have no firm plans at this time.
I will end Part 1 here.  Tomorrow I will finish up the interview but if you are interested, you can sign up for a Free PRO account at  http://www.schmap.it/PRO-account-for-FREE.