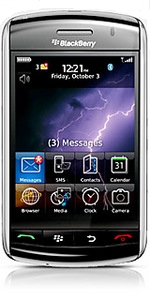 Have not posted in a while, simply because I have been busy and playing….with my new Blackberry Storm. Yes I got one last week and I really like it.  If you read the reviews, some think it is great, others a piece of garbage. Now I came over from a Palm Treo. I really liked the Palm and what it could do but after 3 years it was time for an upgrade.
One of the reasons for the upgrade was that I wanted to be able to experience local mobile searching like the "big kids" do. LOL.  Right now the iPhone is king so why didn't I go get an iPhone?  Staying within our current wireless network, removable battery, and the micro sd card were probably the three biggest reasons.
Ok, I am not here to sell you on the Storm but to see where we might go with it. The iPhone has a ton of cool local search related apps right now and it should be only a matter of time before folks begin developing them for the Storm.  It runs on the Blackberry OS so many of the current apps will work on the Storm.
Right out of the box, the Storm comes with a number of local search related items:
1. a nice full HTML browser and of course a very strong wireless network
2. built in GPS
3. Blackberry Maps
4. VZ Navigator (a fee based directions program)
Since it has a full HTML browser, you can go to any mobile or regular website. Citysearch, YellowPages.com, Mapquest, local news sites, you name it. All seem to work well and provide the local search info you need.
Google Maps is another option. Currently Google Maps does not work properly with the build Storm GPS but from what I have read, it should be coming soon.
Blackberry is saying that in the Spring, they will have their own app store too.
I played around with Blackberry Maps and found it very nice. When you turn it on, there is an option for "local search".  There you type in what you want, and it provides a list (says via Google Local) of what it found and the distance from you. You can then click to view them on a map. When you click on an individual listing, it provides the name, phone and/or website–both of which you can click on to activate.
The program allows you to can get directions to the location, create favorites…very nice.
Coming from the Palm OS, it has definitely taken some time to get used to things but I am getting there.
Since the Storm is so new, (and I to BB) there really is not much more I can say right now. I look forward to seeing the apps come next year.  Has anyone else used the Storm? Found any good apps? Let me know.
Local mobile search continues to grow and the addition of the Storm simply adds to the options folks have to search locally via a mobile environment. Does your website look good on a mobile phone? Should you have a mobile version of your site? Are you listed in Google Maps, Yahoo Local, and so on? All questions you should answer going into 2009.
Mobile Local's future looks bright: (just a couple of articles)
Pew Survey: Mobile to be Primary Internet by 2020
New TKG Data: Smartphone Penetration Nears 20%
Want more info on Blackberry phones? Here are a few great sites I found:
newbbiee.com
CrackBerry.com