Advertising app helps media planners, ad agencies maximize reach and frequency
NEW YORK (April 24, 2013)—Telmar Group Inc., a global supplier of advertising media information software and other services, today introduced its new AD Giraffe™media performance application for the iPhone® and iPad® devices.
The AD Giraffe app, available for download from the Apple® App Store℠ site, helps advertisers and ad agencies better reach their desired consumers. A video demo of the app is available here.
AD Giraffe will be available to U.S. media planners at an introductory price of $9.99 until June 1, after that date, the app will sell for $19.99. Users of Telmar's eTelmar platform will receive access to AD Giraffe free of charge. International versions of AD Giraffe are coming soon.
"If you are a media professional or just a student of the trade, this native mobile app is a constant companion that will never stop giving quality analytics you can depend on," said Corey Panno, president of Telmar Group Inc.
AD Giraffe lets users access stored demographics native to the app or input their own consumer market, audience and cost data from media vendors, research suppliers and media exchanges. AD Giraffe then uses Telmar's exclusive methodologies and algorithms to convert audience and schedule preferences into reach and frequency estimates for every medium in an ad schedule.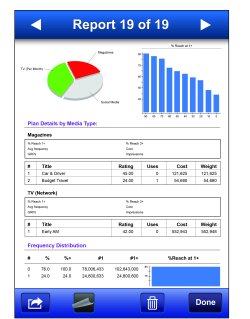 The app also weighs the impact of a user's message and media vehicle type and demonstrates the results of switching money or advertisements from one medium to another. Other features include:
Analysis of cross-media or single-media delivery schedules;
Optimization allowing users to set reach, frequency and expenditure goals while AD Giraffe recommends a mathematically superior solution, serving as a benchmark for future media planning;
Thorough, exportable delivery reports with  tables and graphics for individual and mixed media plans, and an export feature to send results to other applications.
For more information about AD Giraffe, please visit www.telmar.com or contact Parker Wishik.
 # # #
About Telmar
Telmar Group Inc. is a leading global supplier of advertising and media information software and services. Its 10,000 users in 85 countries include many of the world's leading advertisers, ad agencies, broadcasters, and digital and print publishers. For advertisers and ad agencies, Telmar provides software for survey and data analysis and integration, media planning and optimization, revenue management and more. For publishers, broadcasters and outdoor operators, Telmar helps collect, store and manage media research for media planning, media sales, revenue management and optimization. Telmar is headquartered in New York and has offices around the world. For more information, please visit www.telmar.com.
Apple®, iPhone®, iPad® and App Store℠ are registered trademarks of Apple Inc.