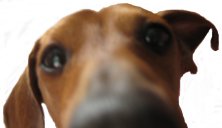 Over the weekend, I took our dog to vet. As I sat and waited, I asked myself  "how do you sell local search marketing to successful smbs in small markets?"  Before coming to the vet, I did a quick search to check his hours (since it was Saturday).  Could not find anything online for him except his name, address, phone.
Now his business is doing well (from word of mouth, the Yellow Pages, and having been around for years). It is continuing to do so as was evident from the full office on Saturday and a nice white Porsche in the parking lot.  From his point of view he does not need any more business or marketing. (I asked).
So how do you sell online local search to him? He does have some info online but has never tried to optimized it.
To the small business, in the small market that is doing well right now, I would say: spend some time on optimizing your information online, put a simply web site out there, get listed.
On the other hand, to the small business, in the small market that is starting out or looking to grow, I owuld say to start with getting listed and then take the next step with some localized PPC or sponsor listings, look to social networking and so on. You will need/want to spend some more time and effort to build your local online visibility so that maybe your office will be packed on a weekend too.
At this point, I would direct his attention to a recent article, Local Search Means Business from Larry Small. Larry has 3 great points of how to view local search marketing now and in the future.
Lesson 1: Shoppers want convenience. It used to be that consumers would rather visit the store tolook and see a prospective purchase in person. The growth in local search indicates that times have changed. With the limited time available to most people in today's world, shoppers are turning to the 24-hour, anywhere, anytime convenience of the Internet for everything even to reach out to the company next door.
Lesson 2: Local search means business. It appears that in many cases, local search is less about browsing your options, and more about closing the deal.
Lesson 3: As local search grows, so too will the demand for local business information. Clearly, all old models are going to have to adapt to stay competitive, but the increase in search and the ripple effect to IYPs indicates that as local search grows, the demand for accurate local business data will too.
Conclusions:
For the successful small business, local search is about positioning for the future when maybe times are not as profitable.
For the small business, just starting out or struggling, local search is the way to go to quickly tap into an expanding marketing place.