Last Friday, I had nice chat and demo with Sheri Solis from ATG about their new venture that was announced earlier today. You can read the official press release here.
From the press release:
"eStara Video Connect is an ideal solution for local and vertical media, online directories, Internet Yellow Pages companies, and Internet video providers who are either looking to add video to their advertising packages, or who already offer video advertising but are looking to more effectively track and measure leads generated from video ads. Customers can choose between two flexible options to add eStara Video Connect to their sites or platforms."
Got to see a demo and it looked pretty cool.  The bottom line is, the more ways you can add to help potential customers connect to your business, the better.  eStara Video Connect provides numerous ways for the viewer to connect to your business via the online video, while they are watching it!  The system also provides the tools you need to measure effectiveness of your online video ads. They are helping find a way to quantify ROI of online videos.
You can click on the screenshot I have here to see what the option screen will look like when a viewer clicks to connect.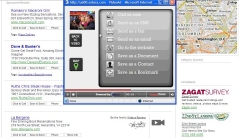 The options are:
Call the advertiser's business with a single click; viewers can opt to be called back by the advertiser on a mobile or land-line phone number, or can place a PC-to-phone call
Go directly to the advertiser's Web site and map its location using Google Maps
Send the advertiser's listing information to friends using SMS, email or fax or save it to a file, a  contact list, or a Web bookmark
eStara Video Connect will be provided to you via the web publisher that lists your business in the near future, so keep an eye out for them. Thanks Sheri for your time, the demo, and good luck with the cool new service.