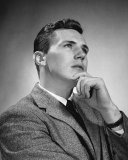 After reading all that I did on the conference, I spent some time pondering it all.
The other website I would recommend you to read on the SMX Local Search conference is Andrew Shotland's blog on local search optimization. Andrew was to be the official reporter for LocalBizBits but in his own words, he was "schmoozing most of the time." He was able to provide me with a few thoughts.
"For the local search professionals it was a good time for relationship building and business development (as most conferences should be) and for the for small biz it was good for getting a broad picture of the landscape, opportunities and key players in local search."
Also "One tidbit I heard in one of the mobile search panels was that you should have your entire address on one line so that it can be recognized as an address in a mobile browser but you should also have it in the more traditional mailing address format on the same page for Web SEO."
Andrew did put together some informative posts on his blog:
Vanessa Fox Says Make Sure Your Data Matches 3rd Party Data: SMX Local Update
Local Search Boyz & The Hoods – The Value of Neighborhood Names on Your Site: SMX Local Update
This is part of what Andrew was speaking on at the conference:
Take Back Your Reputation From The Online Yellow Pages: Just Say No to NoFollow!
Thanks Andrew!