Over the last few weeks I have been reading, Local Online Advertising for Dummies by Court Cunningham and Stephanie Brown.  (Thanks to Yodle for providing a copy.)  Overall I like the book. I think it does a nice job on providing information on the basics of local search and is written in a way most folks can understand.  (Isn't that what all "dummy" books are supposed to be? LOL)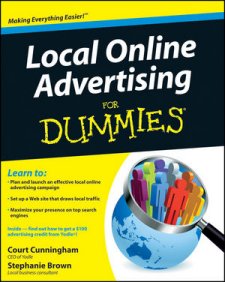 After I reviewed the book, I contacted Yodle to get a few questions answered. Below are my comments, thoughts, and answers (in italics) to questions I had.
Before I get into the book, thought it was important to know who Yodle is.
"Yodle is a leader in local online advertising and named fastest growing local online advertising company by industry analyst Borrell Associates. Yodle connects thousands of local businesses with consumers in a process so simple and cost-effective that business owners can't imagine any other way to advertise. Yodle has developed an integrated approach to signing up and serving local businesses that are transitioning their marketing budgets online. Yodle is headquartered in New York, NY with a presence in 25 major cities across the United States."
On to the book. ..
This book came out a few months ago and is one of the newest addition in the "for dummies series".  The book does a good job providing definitions to many terms we in the search market know and use all the time. Thus it definitely will help small business owners understand what we, local search marketers are saying.  🙂
The book is broken down into 20 chapters and many, many sub sections within each chapter. For a list of the chapters and purchasing info, you can head over the official dummies site. This is also where you can purchase a copy if you wish.
I liked how the book is organized and does a very good job breaking stuff down into bitsize pieces.  It is very "readable",  not too boring and dry.  The material is presented in way (or order) that if one follows it, they would have a "reasonable" and "obtainable" marketing strategy. What I am saying is that the books gives good basics on the main and proven marketing techniques, no "do this and you will be #1 overnight" material.
As I was reading though, my first question was, "why a book? wouldn't it get outdated soon?" A lot of this information is online. So I asked them.
"While there is definitely a lot of information available online that may be very "up to date," no one has ever vetted all the information that local business owners need to know about online advertising and put it one place.  A book seemed like a good vehicle through which to "bundle" all this information and make it available to the average local business owner – who themselves may not be all online savvy such that they would otherwise be able to find this information.
Additionally the opportunity to create this book in conjunction with a brand so universally recognized as the "For Dummies" imprint, was an opportunity we just couldn't pass up.
The last thing I'll say about the book becoming "outdated" is that we really tried to write the book in a way that empowered local business owners to think about local online advertising broadly as opposed to just making it a laundry list of tools and resources."
I also asked if any updates were in the works. "If we sell enough copies.  Did we mention that the book is available on Amazon?"
The majority of the book is about local search, but it covers other areas like email, analytics, paid search, banner ads, budgeting, web design, hosting.  It does not go into huge details on all of these areas, but gives a nice intro to each.  All are areas small business owners need to know about.
Throughout the book, there are many references to websites and companies, that they recommend. Now being "nosy" I asked if these references asked to be put in the book or were paid. You might think it a silly question but I wanted to know.
"We absolutely did not receive compensation from any companies other than Wiley (the publisher) who paid us to write the book.  Any time we may have listed specific companies, it was a product of us asking ourselves the question: if we were acting as a business consultant for a small business owner who was a friend or relative of ours, which resources or companies would we tell them to check out?
Also, it's worth mentioning that Wiley was very stringent about being as "non-biased" as possible.  I put that in quotes only because we have a natural bias which is that we believe in online advertising for local businesses – however, I think there are quite a few stats that would back up that bias as well.  In fact, more along the lines of being non-biased, if you look through the actual text of the book (outside of dedications and the like), the word "yodle" only comes up perhaps two or three times."
So what else can I say? I could go on for a long time commenting on each chapter or section. What I will do is open up the floor to you — send me any questions you might have about the book and I will do my best to answer them.
In conclusion, should a small business owner buy this book? If he wants to understand local online marketing better, I would have to say yes!  The material in the book is current, accurate (best that I can tell 🙂  ), nicely organized and easy to understand. It provides good solid advise and resources. Could a small business owner  do all the work themselves? LOL (see my previous posts on that one)
Thanks Yodle for a good local search marketing resource.