Today we finish up the article by Tim Conley. If you have any questions, please post them here and Tim or myself will be more than happy to discuss them. Now….
Dominating Local Searches on Google
First you need to do basic search engine optimization on every page of your website.  Next build optimized pages for your major local keywords and include semantically related phrases on those pages.  Talk to Larry about getting this done for your site.
Next, set up a Google Local Business listing so your business can show up in the Google Maps local results box.  Fill it out completely.  Add the videos, pictures and get reviews from your customers.  You should be putting almost as much effort into this one tool as you do for initially optimizing your website–it's that important.
Your goal is to get your main website (your money site) into the top 3 organic search results before you start on the next steps.  Doing everything at once will dilute your efforts.  I'll say it again.  Make sure you are ranking in the top 3 of your ten most important keywords before proceeding.
The next step is to get as many double listings as possible.  To get a double listing, optimize two or more pages on your site for the same keyword.  With a double listing for a geo-targeted keyword, Google frequently returns 8 organic search results instead of the normal 10.  That means you need to work to own at least the remaining 7 results.

You're going to build a content network using Squidoo, Hubpages, Youtube, WordPress, Blogger, Tumblr and Posterous.  There are more, but you'll start here.  You or your SEO will have used some or all of these sites to create some links to your main website to get it to rank.
Now, we want the sites in our content network to start ranking for our major keywords so we have to do all the same steps we take to rank our main site to get each of these pages to rank.  See the diagram for a simplified outline of what your content network will look like.
In the Content Network Snowflake you'll see your main website in the middle surrounded by support sites that in turn are supported by auxiliary sites. Each of these sites are content sites that reinforce the relevancy and authority of each other. What you don't see in this diagram are the inbound links that support each of these sites.  This is nothing new in SEO, but it is new for the purpose of ranking multiple content sites for the same keyword to prevent competitors from ranking.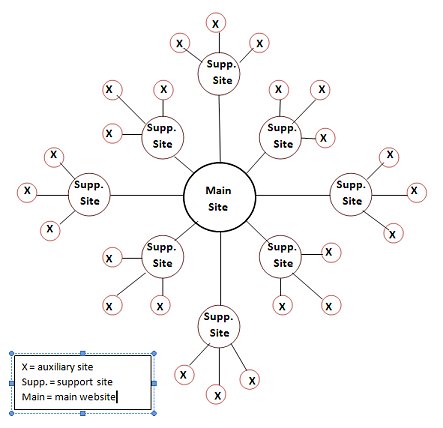 The reason we are doing all this is to take up as many available organic search results as possible.  Don't allow weak competitors to show up next to you in the search engines.  This is the only place I know of where some good ol' fashioned elbow grease will keep your competitor's ads (search listing) away from your ads.
In all of your content on your content network, you need to have conversion tools in place.  This will include links to free reports, email opt-in boxes where possible, phone numbers, contact forms, your business location and any other way you can think up to get people to leave your content network and connect with your business.
Being better and smarter will pay off in you dominating page one of Google.  Once you have control, visitors will have no choice, but to choose you.
I know this was a lot to throw at you and I left out a lot of details on how to do local search engine optimization, but please feel free to ask questions in the comments and Larry and I would be happy to answer them.
About the author:  Tim Conley is a local marketing blogger in Phoenix, AZ and has consulted with over 200 companies from solopreneurs to software companies with 250+ employees.  Go to Tim's blog to get more local online marketing insights at LocalMarketingMastery.com.