Kevin Leu of Merchant Circle sent me info on a survey that Merchant Circle had recently done. I thought the results were interesting. More than 12000 business members participated in the survey.  Just over 10% of those responding businesses classified themselves as retailers, while 90% fell into other categories.  For the complete survey and results, visit www.MerchantCircle.com/corporate/blog/.
Some interesting points:
A. Economic and Business Outlook:
47.3 percent of merchants disagree or strongly disagree with the statement "The worst effects of the recession are behind us." 23.2 percent of merchants believe that the worst of the recession's effects are behind us and 29.6 percent neither agree nor disagree.
B. Holiday Outlook
68.3 percent of respondents expect holiday sales to decline or remain relatively the same in 2009 versus 2008
C. Marketing:
47.7 percent of merchants expect their marketing expenditures to remain stable over the next three months, while 26.6 percent expect to increase marketing spend and 25.7 percent expect to cut marketing expenditures
D. Current U.S. Administration:
When asked if the current U.S. Administration is doing enough to help small businesses, nearly three quarters of merchants responded negatively. Only 10.1 percent think the current administration is doing enough.
Below is one graph Kevin provided that I thought was very telling.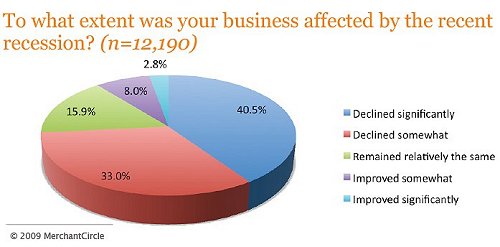 From personal experience, I definitely can agree with the results here. Small business have been effected by recent economic activity but this should be a time to act not react. Online marketing represents an affordable and effective means to get your message out there. Remember you are looking long term- build your presence, work on it, and be consistent. Also think outside the box.  Good luck and keep your chin up!