One reason smartphones were created were to hopefully make some things in life easier and give us access to important information or resources quickly. This week, a new app for the Blackberry Storm, is coming out, the fone book, from BlindingRain, a small start up company here in the US.  This is an app that I have been waiting for – a white pages phone directory which gives you the ability to find people, business and a reverse phone lookup option.  Dan Hoff of BlindingRain was kind enough to provide me an advanced copy to take it for a test run.
Overall I like the app for the following reasons:
easy to use interface
excellent response time
none or minimal memory leak
was built specifically for the Storm
great price tag
company stands behind product
For some great screen shots, check out their  product website and click on the different components listed.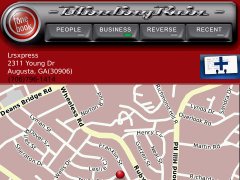 After testing the app, I sat down with Dan and picked his brain about fone book.
Q. Dan, one the big things, with Storm users is memory leakage. Did you guys test this?
A . We have designed the fone book to have a small device footprint and a very low operational memory overhead. With the app on and running in background, our bench-testing has been unable to detect any negligible additional drain on battery life.  We have done a significant amount of memory leakage and security testing on the fone  book. In over 100 hours of bench-testing, we have not been able to detect any memory leakage what so ever. Both memory leakage and security have been concerns of ours from the early stages of our development process.
Q. How does fone book search listings?
A. This comes close to some proprietary information but I can give you a generic answer. We use a couple of logic streams, one for People Search and one for Business Search. However, both use a 35-mile radius logic when either no exact match is found to a specifically named search target, or if you are searching within a general business category. The search system is something that we consider to be a continual work-in-progress for us.  Our data partner has been extremely helpful to us and has permitted us a wide range of input into the development of our search system. So this is something that will only get better as time and experience build and user feedback comes in.
Q. Where do you get your data from?
A. While not at liberty to name names at this point. For a typical user of the fone book or for anyone using a search tool of any type, they don't want all of the answers to everything " they only want the right answer to their query – now.
At the present we work with a data aggregation company. This firm draws data from three of the top directory sources in the US for our residential search and two of the top data sources for business search.
Q. Does fone book use the Storm's GPS features?
A. No. Using the GPS as part of an upcoming upgrade/enhancement is under consideration, but there are two main reasons that I don't feel that it is a core to our product. First, GPS as a feature has a number of user experience drawbacks and I don't feel that it is one of the stronger features of the BlackBerry Storm. When implemented on our test application, it created memory leaks, degraded battery life and inhibited the speed of result delivery to the user. For now, we feel that until the GPS feature is significantly improved, we would just as soon not include it in our app. The second reason we have not included GPS is due to user feedback.
Q. What makes fone book different?
A.  The fone book does one thing and does it very, very well. But to more clearly articulate what differentiates us from the rest of the din in the market, I would have to say that first and foremost, it is our orientation. This is an app that was literally built by and for Storm users. We have resisted the temptation to build in opulent features, complicated menu trees and multi-step processes.
All that we wanted to do was to build a useful tool for BlackBerry Storm users. We wanted to build something useful to a broad spectrum of users whether they were a business user, a road warrior, a soccer mom or just someone who wanted a good phone that did more.  It needed to be something that would be used every day and would be as useful and used in 2 years as it would be in the first 30 days.
It is fairly innovative to show all the necessary information in one, single frame for the user. So if you have a contact, you can see the address, the phone number and can see the map of where that contact is located, all without having to page from one view to another. Fast, easy and efficient.  Then, within the same view, you can click-to-call or click-to-add to your contacts. All without a lot of complicated intervening screens and menus. To summarize, our main difference is that the fone book is a small, simple app that does what we say it will do. It does it very, very well and adds to the value of the Storm as an advanced, smart tool to the end user – all for a reasonable price.
Q. Speaking of price, what sort of price tag are we looking at?
A. We are being very aggressive here.  The trend in the greater BlackBerry apps eco-system for high price concerned us. We didn't want to contribute to that trend, so we set $2.99 as our full retail price. Now I want to caution you. That is a lifetime price, not a 6-month service price and includes updates and email support for as long as you own your Storm.
Q. What are future upgrade plans?
A. We have a lot of ideas for future upgrades as well as other products along this same line for the future. First would be to fully integrate the BlackBerry Contacts into the fone book search UI. That would mean that if I am looking for someone and they exist in my contacts, the would be displayed in the fone book search results along with the same data display as is now done for search contact details.
Next, we are looking at the possibility of adding reverse search by address, in addition to reverse search by phone number. Then you can find, neighbors and people near by from your fone book. Then there is always working through the issues of GPS and beginning to find a way to bring that functionality into the fone book and add to the user experience at the same time. The one thing that we intend to do in moving forward though is to listen. We want to hear from our users.
Q. Where do you search mobile search going in the near future?
A. To me mobile search has had a bad rap up until now and for good reason. To this point, developers and applications have tried to take the desktop computer search experience and replicate it on mobile devices. It hasn't really worked.
Mobile devices are getting closer to the speed of desk-top computing, but let's face it is a tinny screen and doesn't have the computing power, so it just isn't working. The user experience is not what it should be and the overall performance of the search applications just doesn'y fit in the small box environment of mobile devices. Apps like ours specific or spot solution search tools  seem to fit this mobile environment far better than the search portal concept. The user experience is far superior and the utility and functionality of search as a function becomes far more human tool oriented when this approach is applied. Users benefit, mobile carriers benefit and those app developers who tap into this will benefit. To me, this is the necessary direction of search in the mobile device eco-system.
Congrats to Dan and BlindingRain on great new app for the Storm. As of this writing, the app should be available from Mobihand – more details to follow.