Hope everyone in the US had an enjoyable Labor Day weekend.
Two weeks from today, the Kelsey Group will be having their Directional Media Strategies 2008 conference in Atlanta GA and yours truly will be in attendance. I am super excited about being able to go. If you are going to be there, drop me a line so we can catch up. For those who can't make it, I will be blogging about the conference so make sure to tune in.
After looking over the agenda, it appears this conference will be packed with a ton of great information and speakers. I know that I do not know enough about the Yellow Pages and directional media and am looking forward learning from the best. Over the next week or so, I hope to post some on the IYP in preparation for the conference.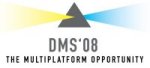 (nice to see a conference in my neck of the woods–hint, hint for those looking for a site for their next conference)